Products
Thank you for your support!
FKS Pin
Friends of the Kaibab Squirrel has commissioned a special FKS pin from Western Heritage. You can purchase your own pin directly from Western Heritage and show your support for the Kaibab Squirrel !
Proceeds from your purchase help to support FKS.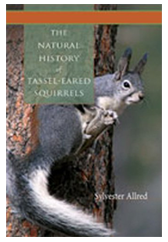 The Natural History of Tassel-Eared Squirrels
"This comprehensive book, the first text on this species, has an extensive literature review and list of references, and beautiful full-color photography illustrating the squirrels and their magnificent ponderosa habitat. Sylvester Allred reveals the history of the Kaibab squirrel, including brief biographies of the early naturalists who first described them, and descriptions of fossils and other remains that reveal the evolutionary history of these unique creatures. Throughout the book more than forty research topics for future exploration are identified."
Description provided by Amazon.
*This book covers all 6 Abert's Squirrel sub-species, not just the Kaibab Squirrel.